Taking your car or motorbike to Terschelling or Vlieland
Cars can be transported exclusively on our regular ferry service; the fast ferry cannot transport any cars. Tickets cannot only be booked in advance.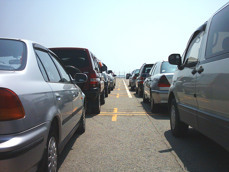 Taking your car to Vlieland
Vlieland is a car-free zone and that means in principle you are not allowed to take motorized vehicles to Vlieland. If you still want to take your car, motorbike or scooter, then you should request a so-called T-exemption from the municipality of Vlieland prior to your trip. Check for more information on the procedure on www.vlieland.nl. If you do have an exemption, you can then book a place for your car, motorbike or scooter on the ferry by telephone.
Taking several cars?
Are you intending to take several cars? Then make a separate reservation for each vehicle. Do take into account that every reservation should include at least one person (driver).
Motorbikes
Firmly park your motorbike. Rederij Doeksen is not eligible for possible damage, if your motorbike should fall over aboard the ferry.
Trailers to Vlieland
Motorized vehicles are not allowed on Vlieland, the exception being if you are in possession of a B-exemption (islanders) or a T-exemption (temporary exemption visitors). You are, however, allowed to take a trailer (if it is used for recreative purposes such as transporting tents / luggage) to the island. The maximum width of a trailer is 2 metres. You can book a trailer only by telephone 088-9000205.
Disabled people
If you have difficulty walking or if you use a wheelchair and you need help in boarding and leaving the ferry, report this to our employees. They will be happy to be of service to you.
Mind
Rederij Doeksen does not provide transport from the ferry to your accommodation. You will arrange transport from the ferry to your destination on Vlieland with either your accommodation provider or luggage transporters Wietze de Boer or Zeelen.